Industrial belts are an integral component in many industrial machines. Belts are flexible materials that transfer power from one part of the machine to another, allowing mechanical components to move in a specific way. Belts are an efficient way to transfer power, as they require little maintenance, have a high degree of flexibility, and are relatively inexpensive.
The history of industrial belts dates back to the 18th century when leather belts powered simple machines such as grindstones and water wheels. In the 19th century, flat leather belts began to be used in factories to drive various machinery. In the early 20th century, technological advances led to the development of more sophisticated belts made from rubber or other synthetic materials. The rubber belts powered larger, more complex industrial machines. In the 1950s, V-belts were introduced, made of a combination of rubber, fabric, and metal. V-belts provided more efficient power transfer and were preferred for most industrial applications.
Timing belts and V-belts are the most common belts used in industrial applications. Both timing and v-belts transfer torque or facilitate speed change from one shaft, the driver, to a second driven shaft. Still, each has its unique characteristics and is suitable for different applications.
Timing belts, also known as synchronous belts, are made of flexible material, usually rubber or polyurethane. A Timing belt consists of teeth on its inside surface. The teeth are made to fit into the grooves of a matching pulley. The belt's tooth-and-groove design securely grips the pulley, allowing for precise power transfer between the two components.
Timing belts are used in systems that require speed and position accuracy. Timing belts are used for engine timing and in machines like printers and automation equipment.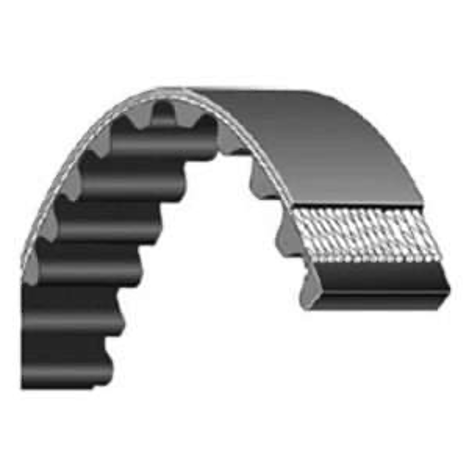 Timing Belt
V-belts are consistent of a belt with a trapezoidal cross-section, offering a better grip on pulleys and reducing slippage. V-belts are usually made of rubber and reinforced with fabric. The V-shape of the belt means that it can fit securely into the grooves of the pulleys, creating a friction grip. The friction grip allows the belt to transmit power between the two pulleys, causing them to turn together. The belt is tensioned so that it is tight enough to avoid slipping yet loose enough to allow the pulleys to spin freely.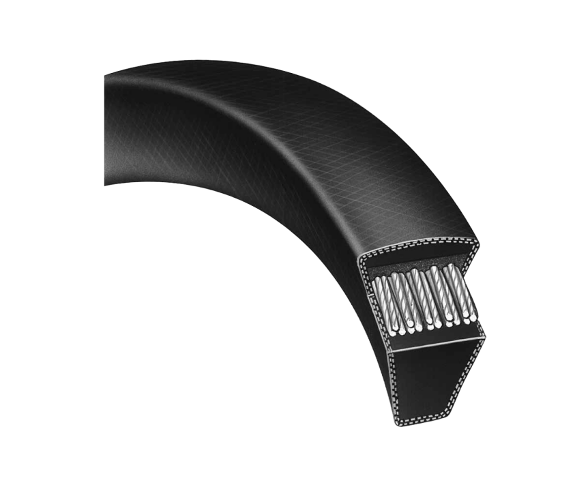 V-Belt
Timing belts are designed for precise power transfer and are suited for timing systems and high-power transfer applications. V-belts are cheaper than timing belts and easier to install. V belts are also suited for applications requiring frequent start-stop operations, as they are less likely to slip.
Selecting a belt for your application
Determine the type of belt you require: Flat belts, round belts, timing belts, and v-belts are all industrial belts. Each type of belt serves a different purpose, so it is critical to determine which type will best meet your requirements.
Consider the following operating conditions: When choosing an industrial belt, you should consider the operating needs of your application. Factors such as the belt's speed, the load it must carry, and the environment it will operate should all be considered.
Consider the belt's material: Rubber, polyurethane, and other synthetic materials are commonly used to make industrial belts. Because each material has unique properties and benefits, so it is crucial to select the material that is best suited for your application.
Consider the belt's size: Another essential factor to consider when choosing an industrial belt is the belt's size. The size should be chosen based on the application and the size of the pulleys on which the belt will run.
Consider the price: When choosing an industrial belt, the price can be a major consideration. Many industrial belts are available in various price ranges, so choose the belt that fits your budget.